Introducing our comprehensive guide to choosing the perfect windows for your home. Not only will this guide help you navigate the vast array of options available, but it will also show you how selecting the right windows can increase the comfort and value of your home. Make sure you check out the useful links at the bottom of the page.
Gone are the days of settling for subpar windows that hinder your view or obstruct natural light. With this guide, you'll be able to get exactly what you're looking for and ensure that there are no regrets after your new windows are installed.
But before you start shopping for new windows, take a moment to walk around your home and consider the unique needs of each room. Is it too hot during the day? Do you want more natural light? Is your view obstructed by outdated window designs or grills? Don't worry if you're unsure, our guide will walk you through it all. It's time to take control of the comfort and aesthetics of your home and make sure your windows are up to par.
Enhance your room
Ventilation
Ventilation from windows can be tricky depending on the layout of a room, where the window is located and whether there is other windows present. Some window types do offer better ventilation than others, so be sure to let your window consultant know of any ventilation concerns.
Interior window finishing (trim)
Most window installers use a standard in-house trim to finish the interior of a window during installation. However, these companies will often substitute other styles as requested by their customers.
Be sure to ask to see a sample before you contract for new windows.
Jam extensions
Many manufacturers provide jam options to match the style of a home or a customer's request.
Interior colours & faux wood
Wood windows offer the most interior and exterior options for colour, but all manufacturers have their own colour and paintable options and warranties. Vinyl windows are usually available in multiple interior faux wood and stainable/paintable finishes.
Grills
Grills are a great way to add style and elegance to your windows. And with today's multiple window pane technologies, many manufacturers offer standard and custom configurations between the panes and simulated exterior dividers that provide a more traditional look.
Are grills right for you? Ask your window consultant about grill customization and current trends.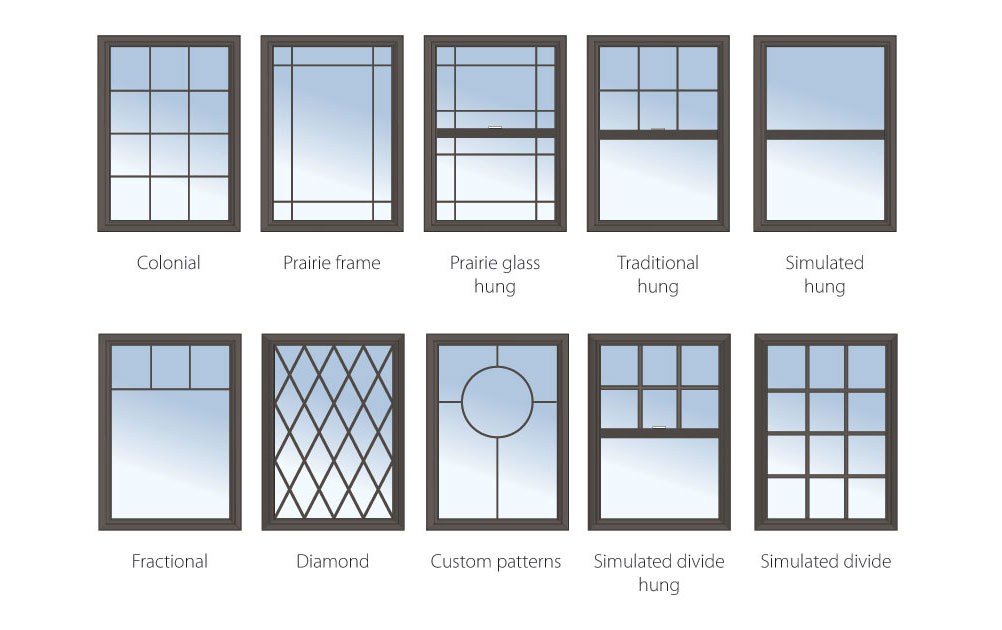 Brightness
Getting too much, or too little light in a room? Or too much heat from the sun. What about that beautiful view that is obstructed by the modular construction of the window, grills or sash?
Transoms
Transoms are often placed over patio doors and high on walls where privacy is desired. Depending on the location of your transom, it will allow a considerable amount of light into your home, a sashless transom will let even more light in.
Because transoms over doorways often do not lend themselves well to simple window shading treatments, the light passing through them can be overpowering, especially if the transom faces the sun in the late afternoon. Aftermarket films can help fix the issue, but this is where factory window tinting might be a better solution.
UV protection
Too much UV light can damage the interior of your home and too little will make it difficult for your indoor plants to thrive. Low Emissivity (Low E) glass is available in several configurations to produce the desired balance between solar gain (heat), light transmittance infrared and UV blocking.
Ask your window consultant what glass is right for you.
Glass
Advancements in window technology, have taken window selection for the home to a whole new level by providing options and solutions that can be applied on a per-room basis. Glass can be ordered in various thicknesses, tints, coatings and strengths.
Privacy
Many window manufacturers offer an assortment of obscure glass options to provide privacy. There are 4-5 standard patterns, but many manufacturers offer more.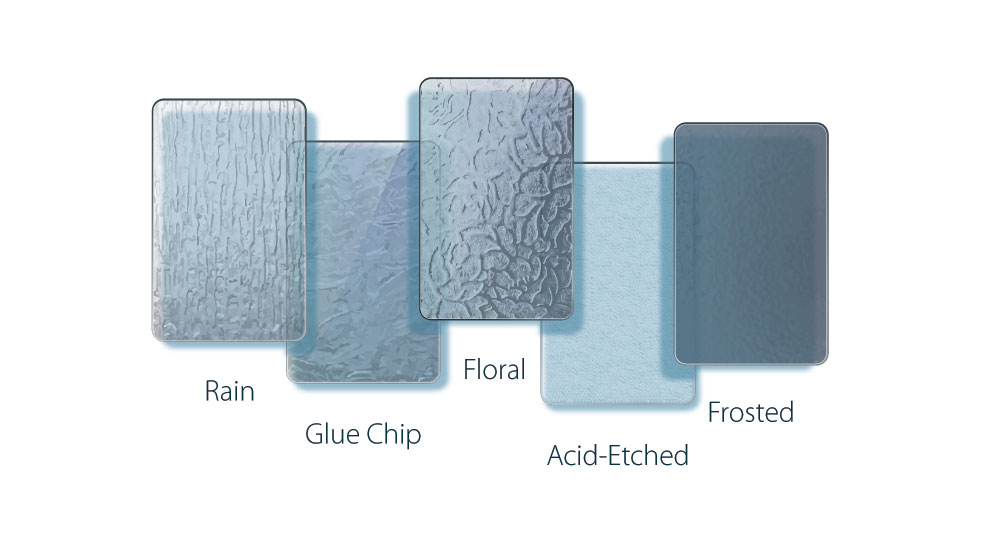 Tints
Tinted glass (grey, green, bronze & blue ) is produced by adding metal oxides to float glass (untreated glass) during manufacture. Tinted glass absorbs and re-radiates light and solar energy reducing heat, brightness and glare in the summer, but loses heat in the winter at the same rate as untinted windows.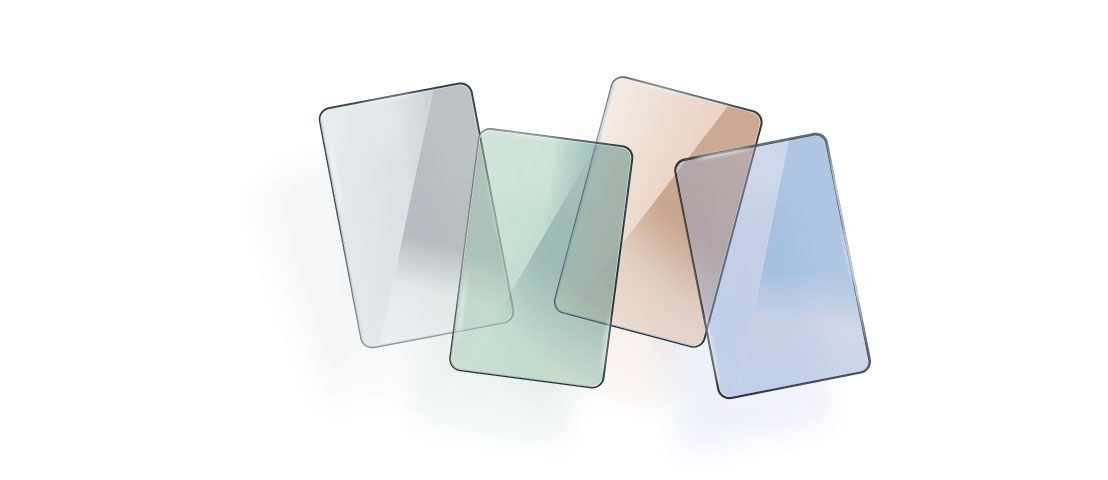 Safety & Security
In today's window market, dual pane glass is pretty much the standard for a new home and replacement windows. Dual pane, also known as double-glazed makes entry into a house difficult and loud. Some window providers will provide even more window safety and security options by providing options for safety glass and laminates.
Most installers offer standard locking mechanisms, however in most cases, as an option, you can order multi-locking mechanisms.
If security is a prime concern be sure to ask your window consultant what options are available.
Glazing (glass panes)
Window glazing refers to the glass-framed within a window (IGU's - insulated glass units). In Canada, double-glazed glass is pretty much the standard, but triple-glazed windows are also available. The more layers of glass the higher the thermal insulation factor, (R-value) which can save money on energy costs. However, not all insulated glass windows are created equal, be sure to compare ratings.

Noise
To reduce outside sound, a barrier must be created between the sound and the ear that captures the sound. Window manufacturers are able to help reduce noise through the window by using multi-glazing, thicker glass, and increasing the distance between window panes and laminates.
Most window manufacturers do not get their windows rated for sound.
Ask your window consultant about the options available to block sound and increase its Sound Reduction Index (ISO) rating. If a window has been rated for sound reduction, the higher the ISO level the better.
Enhance your homes curb appeal
Window style
Choosing the right style of window is more than about how they look, they need to be functional, attractive, easy to use and look right, especially at the front of your home. Check out the pros and cons of various window types casement vs hung vs sliding vs awning windows.

Exterior finishing
There are many ways to finish the exterior of a window. Choosing the right finishing option could dramatically change the way your home looks. Check out our Window & door finishing options story.
Exterior colour
Adding colour to your windows may be a great way to update the look of your home. Many manufacturers offer a plethora of standard and even colours, but not all window manufacturers use the same process, and there could be a trade-off - broad colour selection vs durability. Learn more about exterior window colour
Grills
Grills will affect the look and character of your home from both the inside and outside. Be sure to ask your window consultant about current trends that won't date your home. (See more grills above).
Brick moulds
A Brickmold is a window trim finishing option in which the trim is attached to the outside of a window and is designed to cover the gap between the window frame and the exterior of the home (vinyl siding, brick, stucco, wood…). Various widths and styles of Brickmolds are available to accommodate every installation application. Learn more about Window finishing options.
Window materials
Windows can be manufactured in several materials including full wood, vinyl, aluminium, wood clad and vinyl clad. Choosing the right option depends on the budget, the desired effect and how much maintenance you are willing to undertake.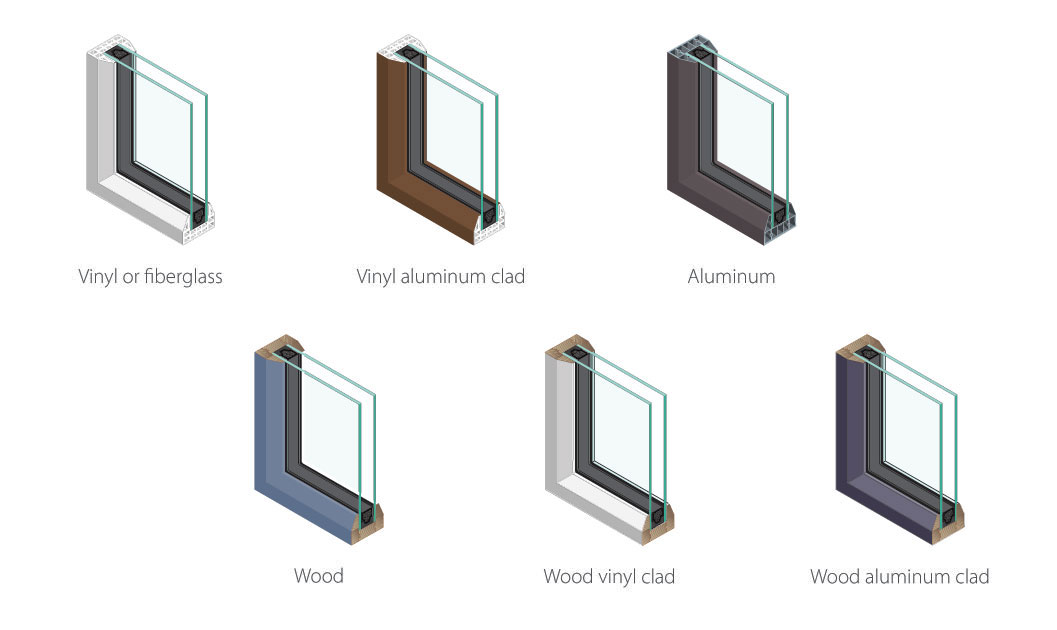 Although some materials insulate better than others, it's the combination of material and the glass options chosen, that will make the real difference if your goal is energy efficiency.
Window operating hardware
Standard and optional window hardware is usually offered by most window manufacturers. Standard hardware comes in white only and performs basic functions such as locking and opening.
Optional hardware is usually available in metallic finishes such as nickel, pewter, and brass, nested handles remove clutter and self-locking locks ensure ease-of-mind locking with a click, or a colour indicator.
Increase the value of your home
Warranty
There are many window replacement and installation companies in and around the Ottawa area that claim they have the best window warranty in the business. Every window company is different and even companies that sell and install the same product will offer differing warranties.
Window energy efficiency

There are lots of ways that window manufacturers can improve energy efficiency in windows. These include materials used, spacers between multi-glazed window panes, the gas between the panes, window design, seals and installation processes.
Ask your window consultant what options you can choose to improve the energy efficiency of the window you are buying.