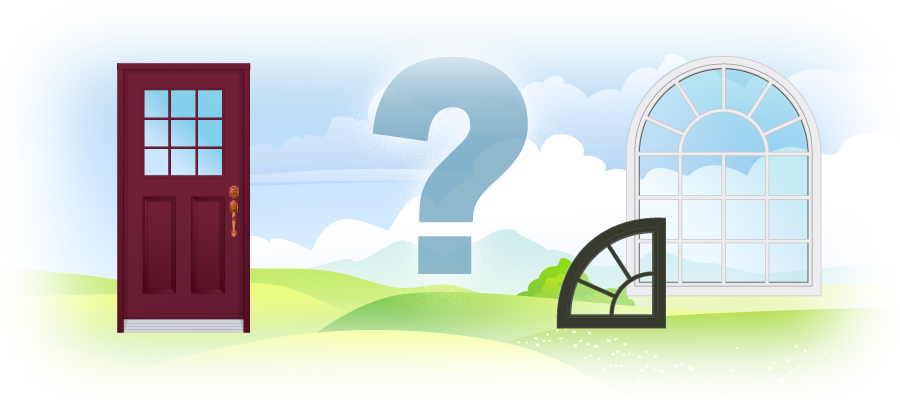 Have questions regarding our replacement windows or custom doors? Here are some of the more common questions being asked by our customers.
General
Where do your products come from?
We pride our selves on providing top-rated products from Canada.
Our North Star products are manufactured just outside Toronto, Ontario. Since 1985 North Star has been an industry leader in the manufacture of attractive and energy-efficient vinyl windows and patio doors.
Our Del products are manufactured in Hamilton, Ontario.
Our Dimension door products are manufactured in Boisbriand, Quebec
Consultation & Quotes
How long does a consult take?
Typically a consult will take about a half hour, it really depends on what you are looking for and the number of windows you are looking for.
When will I get my quote?
We will usually provide you with a quote at the time of your consultation. However, it depends on your requirements. In some cases, our window consultant may need to return to the shop to talk to our installers. Typically you will receive your quote within 48hrs.
How long does it take to order new windows?
Window orders are usually submitted within 1-2 days after an approved order has been placed by a customer. All orders are placed in a queue that is prioritized by date and time received. Delivery of the windows for installation at your home depends on the seasonal or promotional demand. In winter it might take 2-3 weeks, in summer it could take as long as 6-8 weeks.
Can I get a quote over the phone?
Generally speaking, if you are requesting a quote for the replacement of existing windows and doors, it is a very good idea for one of our consultants to visit your home. That way we can ensure a perfect fit by taking measurements that take into consideration items like capping, brickmould, jamb widths and window styles.
Contractors requiring windows for new homes can call or fax spec information for pricing.
Where can I see your products?
Come visit the Bayview Windows showroom at 6270 Perth Street in Richmond (Ottawa). Our business hours are weekdays: 8:00am to 4:00pm. We're closed on weekends. If you can't visit us during regular hours, we'd be happy to open up just for you. Evening & weekend appointments are available upon request. Call us for an appointment: 613-838-2211.
I want to ask a question about a window and door, but I don't know what the parts are. Do you have any reference materials?
No problem, we've got plenty of reference materials to put you on the same page as us.
Energy Efficiency
Are some window types more energy efficient than others?
Yes, picture windows are the most energy efficient windows you can buy. However, the efficiency gap between a window type is narrowing as window manufacturers continue to improve materials and manufacturing processes.
READ MORE: Window Efficiency by Window Type
Are triple pane windows better than double pane windows?
Generally speaking, yes triple pane windows are more energy efficient. But there are other factors that should be considered such as glass thickness, the spacing between the panes, the spacers, the gas between the glass...
READ MORE: The battle of the panes - double vs triple glazing
What causes condensation?
Window condensation occurs when the surface temperature of the window frame, glass or sash is lower than that of the humidity that touches it. The moisture vapour in the air changes into liquid water on contact with these cold surfaces. With extreme temperature differentials, condensation can build up and freeze (at about -15C to -20C in most houses). Even energy-efficient windows occasionally have condensation (to a lesser degree) on the exterior glass surface during periods of extreme cold.
What's the ideal in-home temperature and humidity level for the Ottawa area?
Home interior temperature and relative humidity is often a matter of personal preference, however, exceeding recommended levels can lead to health issues in your home.
During the winter months in Ontario, as a general rule, it is recommended the relative humidity level be maintained between 25% to 40% along with in-home temperatures between 18°C to 24°C.
READ MORE: Ideal temperature and humidity levels for the Ottawa area.
Quality & craftsmanship
What's the difference between builder grade windows and premium windows?
Builder grade windows look great, they are clean, clear and bright. But fast forward 5-10 years, and you may begin to see a different story.
READ MORE: Builders grade vs premium grade windows
Where can I review your service record?
Do you use foam or fibreglass insulation?
We use foam insulation. Not only is foam a great insulator, but it expands into cracks and is not as prone to retaining moisture
Window & Door Installation
How long does a window installation take?
Most of our window installation projects are completed within one day, however, some installs can take several days. It all depends on what your needs. For example, a complete bow or bay window could take between 3-5 days to complete.
How should I prepare my home for an installation?
Here are a few steps that will help us finish the project quicker, cleaner and more efficiently:
Remove all window treatment including blinds, curtains and curtain rods
Try to remove furniture away from windows that are being replaced
Please clear your driveway for installation vehicles and to allow us to move materials safely
Please disarm security alarms
Please ensure that someone is present at home in order to allow our installers access to your home
If you have any specific instructions regarding entrance to your home or property, please inform our installers when they arrive
How messy will my house get?
We try our best to leave your home as clean as it was before installation, however, our window and door removal process includes the use of power tools that may cause the spread of light dust throughout the house.
We use drop cloths to protect work areas and traffic paths. Where possible we close doors to prevent the spread of dust.
We remove and dispose of all unused materials and waste
How long does it take to install an entry door?
A typical entry door installation will take 2-4 hours to complete. It all depends on the requirements.
What happens to my old windows and doors?
Your old windows and doors along with any other waste materials from the project will be removed from your property and properly disposed of, or recycled.
Warranty
Many local companies claim to have the best warranty in the business, what about Bayview Windows?
Bayview Windows offers some of the best warranties on their products and on labour. But please, don't take our word for it. If you want the best warranty in the business do your homework, every company is different.
READ MORE: Finding the best window warranty in the window business
Can a Bayview Windows lifetime window warranty be transferred to new owners if we sell our house?
Absolutely! Our North Star and Del windows are transferable, as is the Bayview Windows Labour warranty
Contact Bayview Windows for details.
What makes North Star colour windows better than the competitions?
Typically vinyl window manufacturers use two different types of processes to add colour to the exterior and interior of their windows, vinyl paint, or vinyl laminate. Both processes produce beautiful results however, differences are often reflected in the colour warranty. North Star windows offer a 20-year warranty on their colour windows. Few window manufactures nationally can offer such an outstanding warranty.
READ MORE: Vinyl window colour, there is a difference!
What should I do if there's a problem with a Bayview Windows installed window or door?
If you have any problems with a Bayview Windows installed window or door. Please call us right away, so we can schedule a meeting at your home. There is no charge for us to come out to see you, and in most cases, you are covered by our product and labour warranty.
Financing
Do you offer payment solutions?
Yes we have partnered with Home Trust Financing.
The Home Trust financing program offers amortizations for up to 15 years, with unsecured, convenient monthly payments and rates as low as zero percent. You can even apply online.
Yes, bring in your window specs and price. We will review, and if we have comparable products, we will beat your best quote by 3%.
Is a down payment required to secure an order?
Yes, we require a 15% to 20% down payment on all windows and doors. Payable by cheque or by credit card. Call us for more details.