Windows play a vital role in keeping your home comfortable and energy-efficient. But, what if we told you that it's not all about technology? By exploring the different types of windows available, you can unlock the potential of traditional design elements that improve insulation, energy consumption, and overall comfort.

Discover the unique benefits of each window type and choose the perfect fit for your home with Bayview Windows' guide on window efficiency by window type.
Is there really a difference?
When it comes to maximizing the fight against the weather, different window styles will show differing energy-efficiency performance scores. However, you probably would not notice it on your heating bill, or the level of comfort in your home. The differences from one window type to another are very small.
Historically - vinyl window energy efficiency by window type has been as follows (most efficient to least efficient).
Picture Windows
Casement, Awning & Hopper Windows
Single and Double-hung Windows
Single & Double-slider Windows
Today - The strive for window energy-efficiency equality
Window manufacturers have become very good at levelling the window style playing field to make all window types equal. And although many believe that certain window types offer better energy efficiency than others, it really depends on the brand you are looking at - keep in mind, by their nature (non-operational) picture windows are certain to be the top performer every time.
Below is a table comparing 3 local Ottawa window installers (they have been listed incognito to avoid bias) that sell 3 different brands of windows. Using the available specs at NRC Canada Windows, each company's standard line of windows (vinyl, double-glazed, Argon-filled) were compared. Window types are listed in order of their best energy efficiency.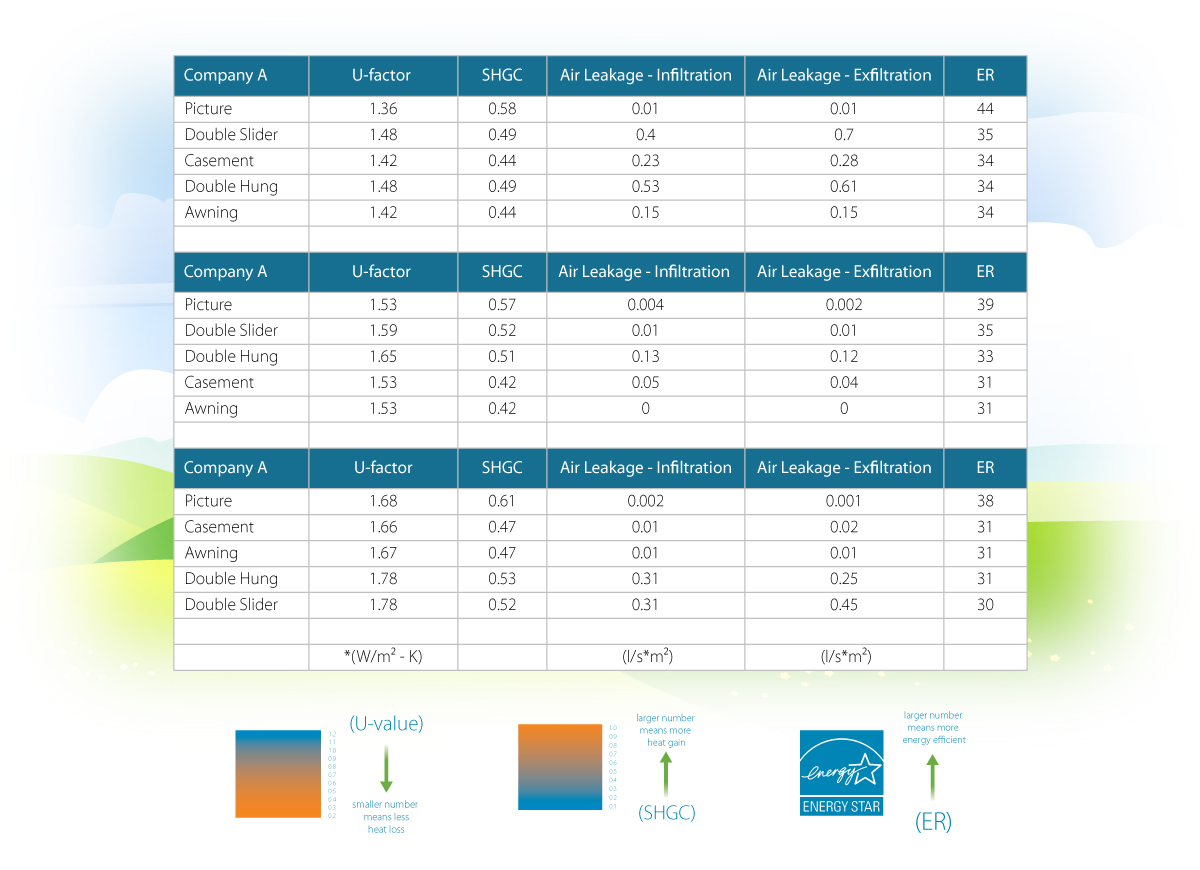 Results
As you can see each company shows a different order for best ER performing window style - picture windows being the exception.
More information about window energy-efficiency
Making them equal to technology
Since ER energy efficiency is calculated with a window's heat gain, heat loss and insulating factors, it is possible to rebalance a window technically through glazing, coatings and gas fills in order to achieve a closer overall energy rating to match different window types.
For example, to accommodate the loss of efficiency in a slider and hung window, manufacturers offer optional upgrades of the inert gasses between the panes (ie. from Argon to Krypton).