Blog > Category > Posted: 2019-May-30, Updated: 2020-Sep-29
Patio doors vs Garden doors
When it comes to making a choice between swinging garden doors or sliding patio doors, its a personal choice. However, knowing the pros and cons of each may curb your decision.
Sliding door - Pros & Cons
Style & design
PRO - A contemporary modern look more suited to newer home designs
PRO - Can be designed to 3 and 4-panel configurations
PRO - Can be custom manufactured to non-standard heights and widths
PRO - Sliding screen doors are standard, allowing for full open-door ventilation and an extra locking capability
CON - May seem out of place in an older home
CON - Limited to solid glass styles
Space & ease of use
PRO - Most people (young and old) find them easy to operate
PRO - Sliding patio doors slide open and don't take up any interior space
CON - The sliding track can potentially trip those not aware of its presence
CON - Because one door is usually fixed, it has a limited open space width for taking things in and out of the home
Energy efficiency
PRO - A vinyl sliding patio door is an oversize window and can be fitted with a double or triple pane option
PRO - Low-E glass coatings can control UV levels entering the home and provide additional energy efficiencies
PRO- Allow more light into the home than Garden doors
Viewing
PRO - By its construction nature patio doors maximize the glass surface area and the ratio of glass to frame providing an unobstructed view of your backyard or property
Security & privacy
PRO - Several additional security options are available
PRO - The sliding design of patio doors allows for the integration of a security bar, upper and lower dead-bolts and kick locks
PRO - Tempered glass prevents brake ins
PRO - Optional inner mini blinds are available for convenience and privacy
Costs & maintenance
PRO - Typically costs less than garden doors
PRO - Low maintenance
Garden door - Pros & Cons
Style & design
PRO - Can dramatically change the appearance of a home both inside and out and can match a specific style
PRO - Available in a huge variety of colours, frames, finishes, materials and hinge swing options
PRO - Available in a French Door style with 2 opening doors or a Centred Patio door configuration with one opening door and one fixed door
PRO - Some manufacturers offer operational casement windows with interior screens for added for ventilation
Space & ease of use
PRO - When opened, double door configurations can provide a bigger opening than patio doors, making it easy to move items in and out of the house
PRO - Garden doors are a great solution for pet lovers - some styles allow for the installation of a pet door
PRO - A sill instead of a track reduces the risk of potential tripping
PRO - Can be designed to multiple door configurations
CON - Screen options are limited
CON - Requires interior or exterior space to allow the door to swing open
CON - Must conform to standard door widths and heights
Energy efficiency
CON - Garden doors are usually made from a combination of steel and wood and lose heat much faster than Vinyl Sliding Patio doors
CON - Glass options typically only allow for double-glazed windows (energy efficient) and very rarely allow for triple-glazing
Viewing
PRO - Almost endless glass options (stained glass, Tints, privacy glass…)
CON - Because of their larger frame requirements, Garden doors let less visible light into the home than patio doors.
Security & privacy
PRO - Glass mini blinds inserts can be fitted for privacy
PRO - Garden doors can be customized with privacy glass, grilled glass, stained glass, etched glass or special glass coatings
CON - French-style garden doors are less secure, due to the lack of a solid centre support
CON - Garden doors typically have just one lock and are less secure than sliding patio doors
CON - Multi-locking mechanisms are available for added security, but they can be awkward and expensive
Costs & maintenance
PRO - Typically made with non-rusting, non-corrosive materials for long life
CON - Often cost more than sliding doors
Related blog posts
Diagram -
Anatomy of a garden door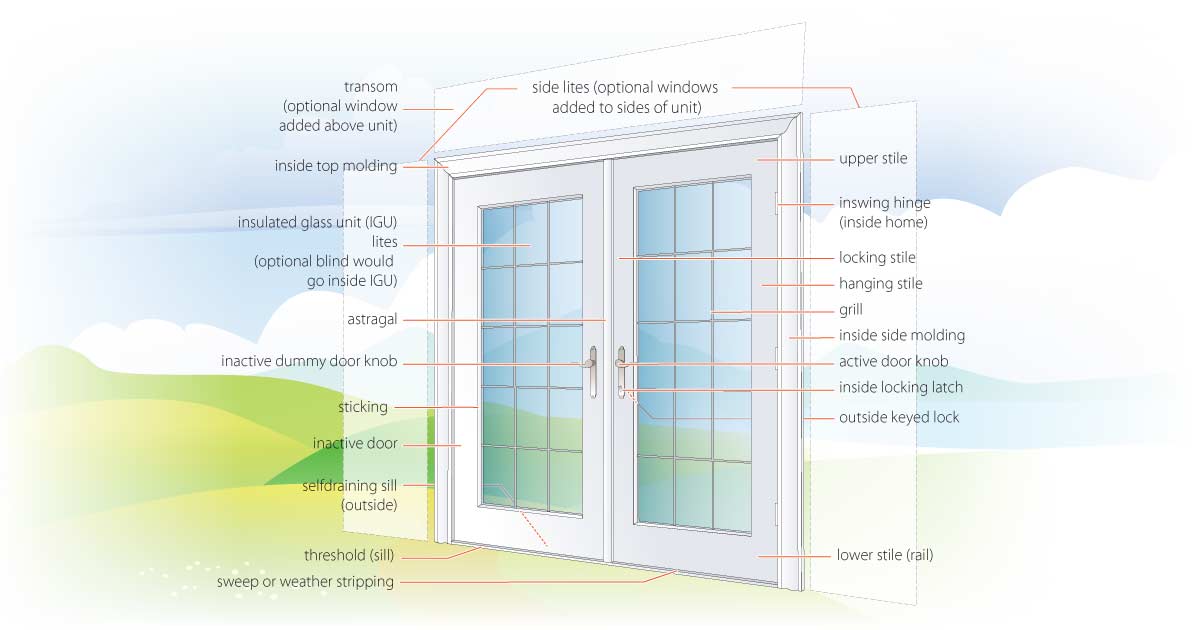 Piecing together a new patio door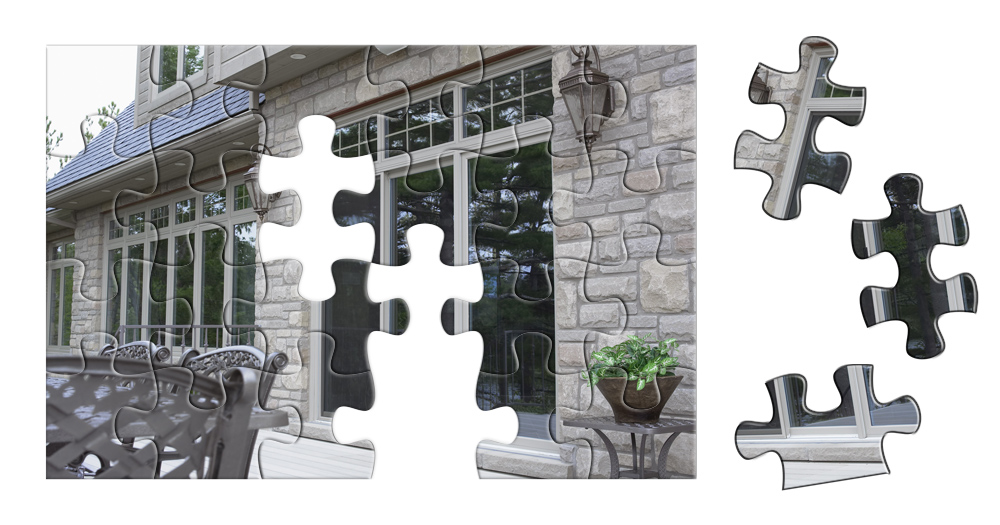 Diagram -
Anatomy of a vinyl sliding patio door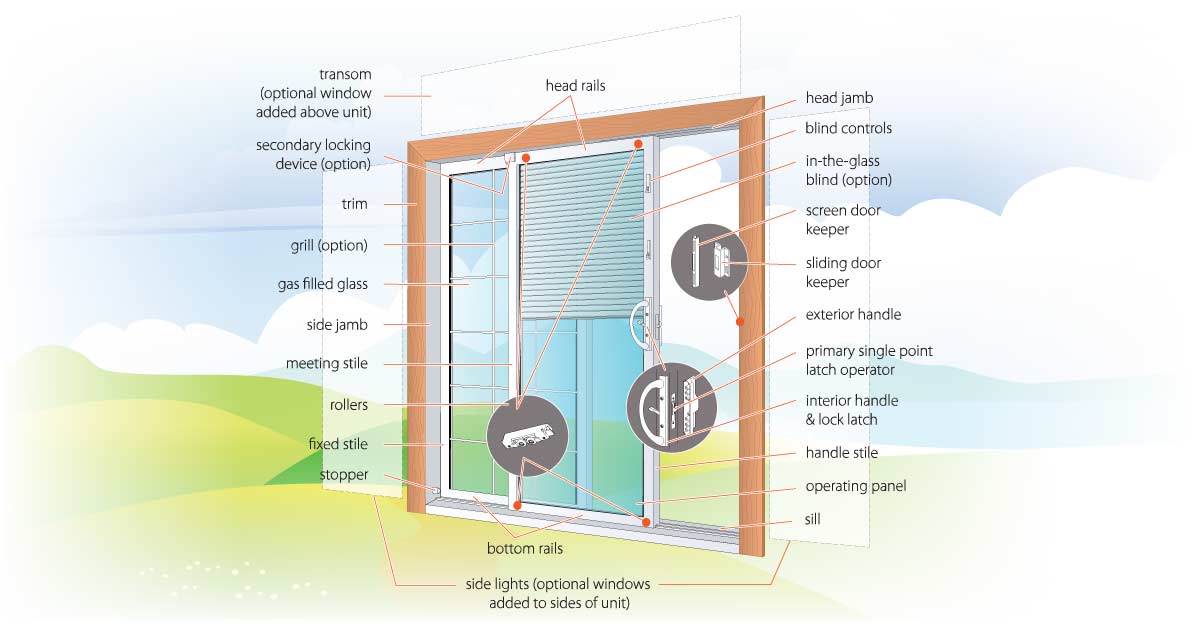 Need more information?
Talk to one of our window consultants, we'd love to help you find a perfect solution to cover all your needs.