Drama, charm & energy-efficiency
Our custom shaped windows can be made to fit existing windows that you wish to replace or can be built to your unique specifications for a new home that is being built.
Made to the very same high-quality standards as all our other windows, our shaped windows are available in many different glass types, exterior/interior colours and grill sizes and patterns.
Exactly what you are looking for
Although shaped windows are typically fixed in position, some shapes can be made into operational windows. Give us a call for more details on how we can help you find exactly what you are looking for.
What's to know about windows?
Energy Star's most efficient windows
All of our window products are Energy Star approved, in fact many of our window products have been highly rated on the Energy Star's Most Efficient Window Products list for many years now.
Does glass really matter?
You bet it does! When you buy windows, a significant portion of the possible energy savings comes from the glass. So when you are comparing quotes, make sure to compare the glass as well. Less expensive glass solutions will cost you more in energy costs in the long run and you'll probably run into other issues.
Below is a typical comparison of glass energy efficiencies. Want to know more about window energy efficiency? Check out our energy efficiency stories in our blog.
Custom window features & options
Custom shaped windows can be installed on their own or in combination to make various styles or shaped windows, or they can be combined with other stationary or functional types of windows or doors to create a unique and personal space that shows off beauty and architectural detail as well as providing optimized functionality.
North Star's windows are tested and certified by Canadian Standards Association and comply with American Architectural Manufacturers Association (AAMA) standards.
Standard features:
High-Efficiency Energy Star Approved Zone 3 Windows
Double-Glazed Low-E Argon Gas Filled Sealed Unit
SuperSpacer® Warm Edge Spacer Technology
North Star Lifetime Warranty
Bayview Windows Lifetime Labour Warranty With Installion
Window options:
Superior maintenance-free PVC exterior, sculptured, contoured wood interior (available in clear pine or natural oak finishes). Available in almost any shape and configuration. Call to find out how we can help make your selection perfect.
Standard features:
Energy Star approved - Del window ratings
Standard 5-1/2'' frame including interior wood
Architecturally beveled welded frame
Precision mitered welded corners
Glazing tape creates a bonded seal between the glass and PVC frame
Cardinal Glass "Endur IG" spacer technology
Includes superior glass packs
Optional 1-1/8" triple pane glass
Oops Warranty
Window options:
Our outstanding warranties
When you contract us to install your windows, we've got you covered for life. You'll never have to think about replacing or repairing your windows ever again.
Every installation comes with a life-time labour and installation materials warranty
All our window products are covered by life-time, transferable warranties
All our window products are highly rated Energy Star approved
Visit our showroom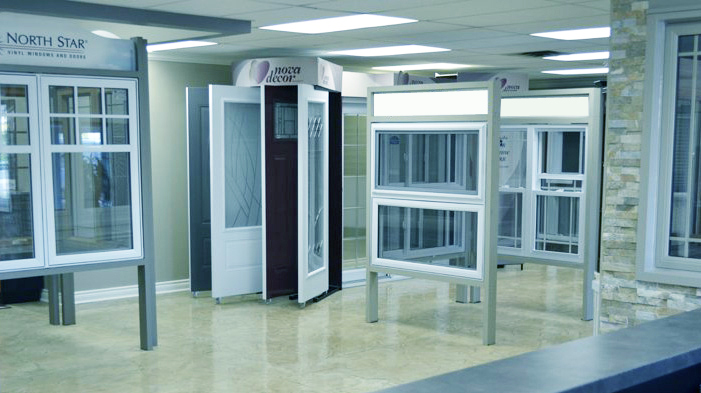 Come visit our showroom in Richmond and talk to the friendly, knowledgeable staff. We'll help you choose a solution that's right for your specific needs, maximizing your aesthetic and budgetary requirements. Call for a free at-your home consult and quote.
For your convenience we offer after-hours showroom appointments during the week and on weekends so you can see samples of our products.