If you are in the market for new windows, and you plan on living in your home for a while, then it's essential that you look into the product and installation warranty's offered by the companies that you are getting quotes from. Warranty periods should not be implied and sellers should not purposely neglect to inform you about important warranty details.
Many companies claim to have the best window warranty in the business. Unfortunately, the warranty language used can be vague or inferential and full of fine print that is difficult to interpret. Every window company is different and even companies that sell and install the same product will practice differing warranties.
It's in your best interest to scrutinize the warranty information that you are provided with and to ask lots of questions when dealing with a window company. Below are some points to consider when looking at warranty information.
What is the best warranty in the business?
In the window business, there are a number of window components as well as the installation that can be warrantied. In order to understand whether you are getting the BEST, you really need to know what the BEST would actually look like for each component. The list below indicates the typical maximum you might get for each these component.
Product
Lifetime window warranty against all product defects that affect stated performance ratings at the time of manufacturing
Lifetime thermal pane replacement - gas leakage, cracks or obvious visual defects
Lifetime hardware replacement - screws, handles, gears, locks
All warranty registration will be done for you by the company that sells and installs the product
Free transferable warranty (remaining balance on lifetime warranty)
Labour & installation
Lifetime installation warranty - against defective installation that may result in damage to the window, frame and finishing
Lifetime no charge labour on warranty repair work
Lifetime no charge on repair materials required to perform the warranty repair work
What is a lifetime warranty?
There's much confusion regarding what a lifetime warranty is and unfortunately to date, there are no government standards to police them. For most window manufacturers, a lifetime warranty (25 years) is an expression of their commitment to the quality and longevity of their products and their support to their customers, should an issue arise. Ask your window consultant for more information.
What's not typically covered?
Damage to windows from acts of nature such as hail or extreme wind or accidental damage from flying projectiles.
A comparative sampling of Ottawa area warranties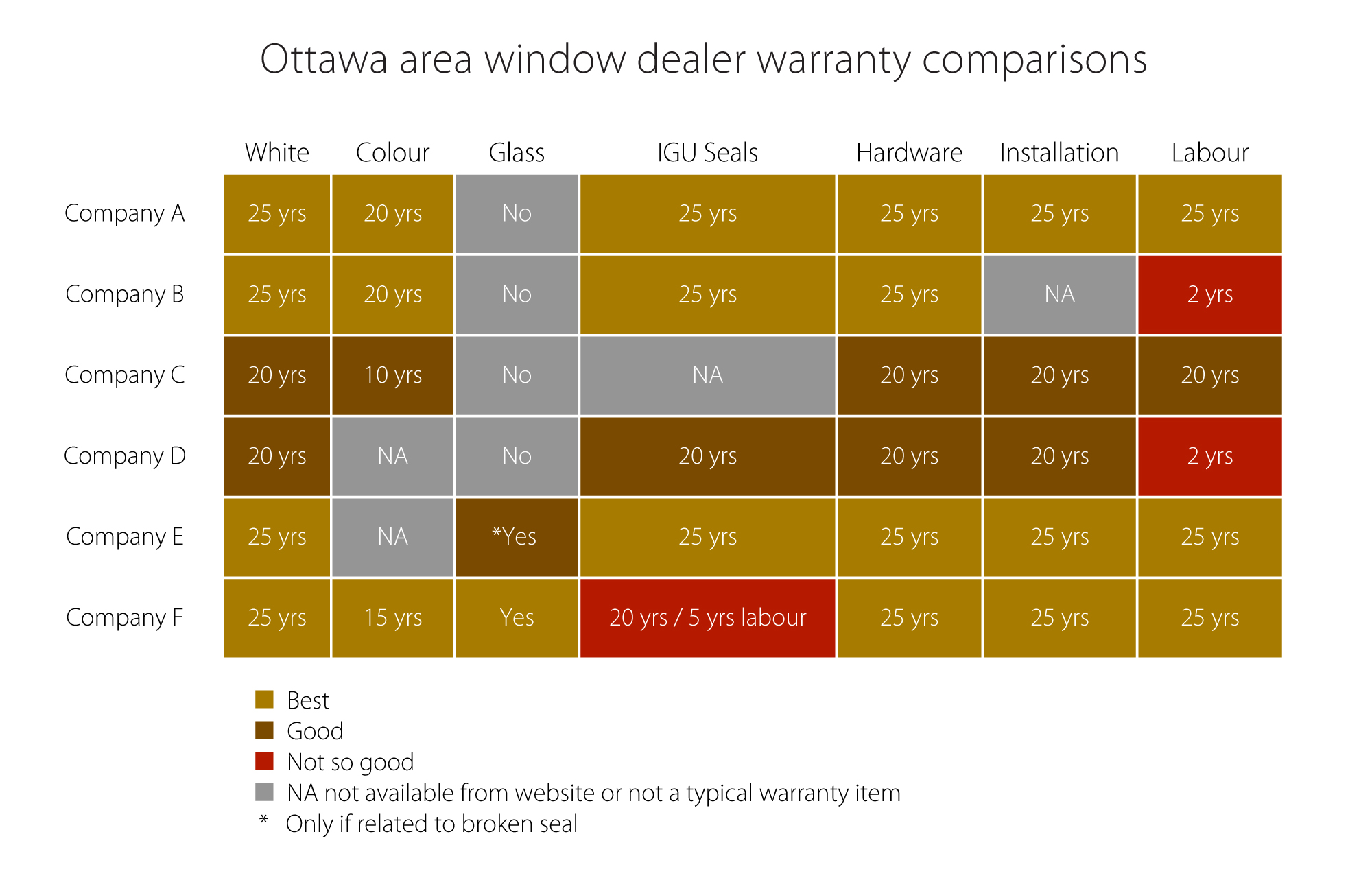 The table above shows various local Ottawa area installers and manufacturing/installers. They have been shown incognito to avoid showing bias.
If the warranty is important to you, then do some comparative homework and ask your window consultant lots of questions. Be sure you know exactly what you are getting so that there are no surprises if something goes wrong in the future.
If you would like to know more, give us a call or send us a request for more information. We'd be happy to address all of your questions or concerns.