Great ventilation and easy operation
Awning windows are well suited for openings in which the width is greater than the height. Hinged at the top, awning windows open effortless outwards from the bottom with a crank and are easily secured with multi-latch locks on the sides.
Awning windows can be installed above, below or beside other types of windows or over entrance and patio doors. On their own, awning windows can be positioned higher on walls to provide great ventilation. Removable screens are affixed to the inside of the window making it easy for removal from inside the home. Awning windows are an excellent choice for kitchens and bathrooms.
Flexible custom awning window solutions
Whether you're replacing existing windows, or building a new home, our North Star and Del awning windows are custom-sized to provide a nice tight fit to maximize energy-efficiency and in-home comfort.
What's to know about windows?
Energy Star's most efficient windows
All of our window products are Energy Star approved, in fact many of our window products have been highly rated on the Energy Star's Most Efficient Window Products list for many years now.
Does glass really matter?
You bet it does! When you buy windows, a significant portion of the possible energy savings comes from the glass. So when you are comparing quotes, make sure to compare the glass as well. Less expensive glass solutions will cost you more in energy costs in the long run and you'll probably run into other issues.
Below is a typical comparison of glass energy efficiencies. Want to know more about window energy efficiency? Check out our energy efficiency stories in our blog.
Awning window features & options
North Star's awning windows perform extremely well, the sash closes against the frame and can be securely locked. The thick, welded frame, sash and locks have been independently designed and tested and have been proven to be very resistant to forced entry.
When exact size, glass type, exterior and interior colour and finishes and lifetime warranty's... are important, look to North Star Windows & Doors for customization that allows for window configuration exactly the way you want them.
North Star's windows are tested and certified by Canadian Standards Association and comply with American Architectural Manufacturers Association (AAMA) standards.
Standard Features:
High-Efficiency Energy Star Approved Zone 3 Windows
Double-Glazed Low-E Argon Gas Filled Sealed Unit
Triple Weather Stripping Seal
SuperSpacer® Warm Edge Spacer Technology
Secure Multi-Point-Locking Hardware
Durable Standard White Crank Handles
North Star E-Z Screen
North Star Lifetime Warranty
Bayview Windows Lifetime Labour Warranty With Installion
Window options:
Durability, great value - our Del Bayview line of awning windows feature architecturally bevelled welded frames and precision mitred welded corners that provide a superior maintenance-free PVC exterior. These awning windows open out from the base and are sealed with a continuous closed-cell weatherstrip with anti-wicking and 100% memory for a durable water-tight seal.
Standard Features:
Energy Star approved - Del window ratings
Multi-point locking system
Low-E glass and argon gas (upgraded glass packs available)
Cardinal Glass "Endur IG" spacer technology
Glazing tape creates a bonded seal between the glass and PVC frame
Superior triple weather seal
3¼'' welded frame (other frame depths available)
Hideaway handle (multiple finishes available)
Stainless steel screws and adjustable hinges
Heavy-duty overlap screen, spring loaded
Modular Construction
Window options:
Our outstanding warranties
When you contract us to install your windows, we've got you covered for life. You'll never have to think about replacing or repairing your windows ever again.
Every installation comes with a life-time labour and installation materials warranty
All our window products are covered by life-time, transferable warranties
All our window products are highly rated Energy Star approved
Visit our showroom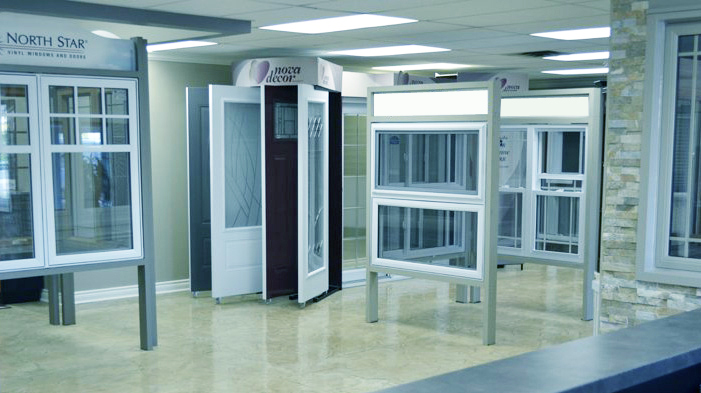 Come visit our showroom in Richmond and talk to the friendly, knowledgeable staff. We'll help you choose a solution that's right for your specific needs, maximizing your aesthetic and budgetary requirements. Call for a free at-your home consult and quote.
For your convenience we offer after-hours showroom appointments during the week and on weekends so you can see samples of our products.