The zones
Although windows and doors do not consume energy, they can be a significant source of heat loss. This loss, or gain is really what ENERGY STAR qualifications are all about. ENERGY STAR qualified products will save you money by reducing overall annual home energy costs. They will also help increase the comfort level in your home, and may have less condensation in cold weather compared to conventional non-qualified products.
In Canada, to be ENERGY STAR qualified, products must meet at least 1 specific energy efficiency level (climate zone) that have been set for three different climate zones. As a consumer, you would generally want to make sure the windows you are purchasing are rated for your corresponding climatic zone.
The three climate zones are based on a formula that tabulates the annual sum of the degrees of the average daily temperature for all days below 18C and calculates a quantitative heating-degree day (HDD) value. Suffice to say, the higher the HDD value, the colder the location.
Zone 1: less than 3500 HDDs
Zone 2: greater than and equal to 3500 but less than 6000 HDDs
Zone 3: greater than and equal to 6000 HDDs
Calculate your actual degree-day data for your location.
So what does this mean?
By qualifying a product into a climate zone, the customer is assured that a product has met the minimum required ENERGY STAR specifications for that zone area.
This does not mean that windows qualified for specific zones are equal in terms of efficiency.
Because the climate becomes progressively colder from zone 1 to 3, the levels are more stringent for each successive zone. Windows and doors that qualify for zone 3, will also qualify for zones 1 & 2 and windows that qualify for zone 2 will also qualify for zone 1.
Buying above the zone
If you are located in zone 2 (Ottawa), and you purchase windows that are rated for zone 3, you may actually save more on energy costs by buying a product that is certified for a colder zone than where you live (read below).
To be sure
To maximize your investment in the most efficient windows possible, you really should be comparing the Maximum U-factor and Minimum Energy ratings (ER). The table below should be used as a basic guide.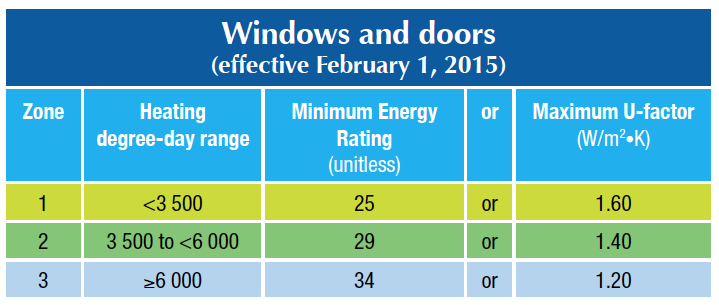 Buying below the zone
If you buy a window rated for a zone that is warmer than the zone you live in, you may discover that the window does not insulate as well as you expect.
Higher elevations
If you live at a significantly higher elevation than the surrounding area, look for a product rated for a zone at least one level colder.
Understanding window ratings:
If you would like to know more, give us a call or send us a request for more information. We'd be happy to address all of your questions or concerns.