But don't worry - by replacing your tired old windows with modern, custom-designed windows, you can not only improve your home's functionality but also give it a fresh new look that you'll love. With countless options available to you, now is the perfect time to upgrade your windows and transform your home into the comfortable and stylish space you've always wanted.
Before you call for a window replacement estimate, take a walk through your home and consider whether each window type makes sense in your current environment.
Re-thinging your window type
If you are having your windows replaced, take the time to re-think your window types. It could save you money and improve your environment. Consider this, casement windows that have never been opened could be replaced with picture windows (the least expensive window type), and casement windows that obstruct exterior living spaces could be replaced with sliding or hung windows (restricted movement contained within the wall). Awkward-to-open kitchen or basement slider windows could be replaced with crank-driven awning windows (for ease of operating and great ventilation).
Tips on choosing the right window type
Picture Window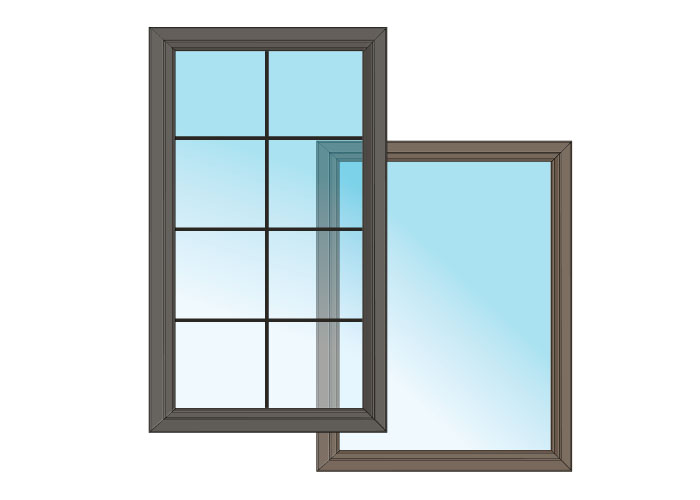 Picture windows are fixed non-operational windows that provide unobstructed views, they can be singular or combined with other types of windows to provide ventilation or complement a room or curb view. Picture windows are the most flexible in terms of size, and the most energy-efficient type of window. As with all window styles, these windows can be accessorized with interior or exterior grills in various styles, colours and materials. And they can provide customized comfort and energy efficiency, through tints, coatings or triple-glazed options.
Fixed Custom Windows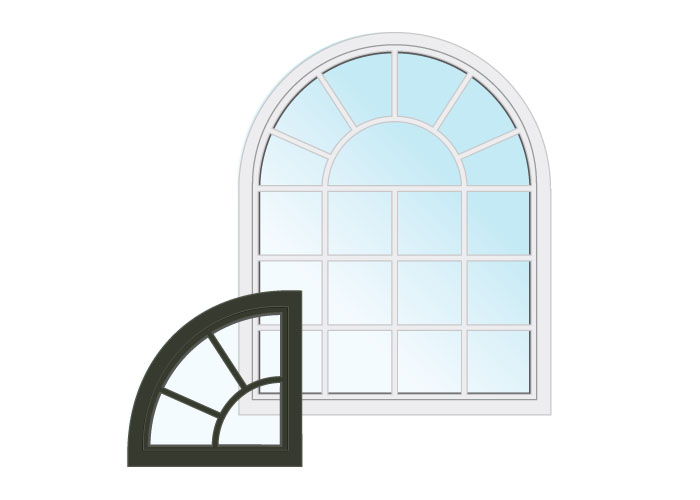 Fixed custom windows, also known as architectural windows are picture windows that have been cut into desired shapes and sizes. They include circles, partial circles (for Palladian window configurations), octagons and angled windows. There are some limitations, but overall if you can imagine a practical configuration, your window consultant will be able to help you design a solution.
Casement Windows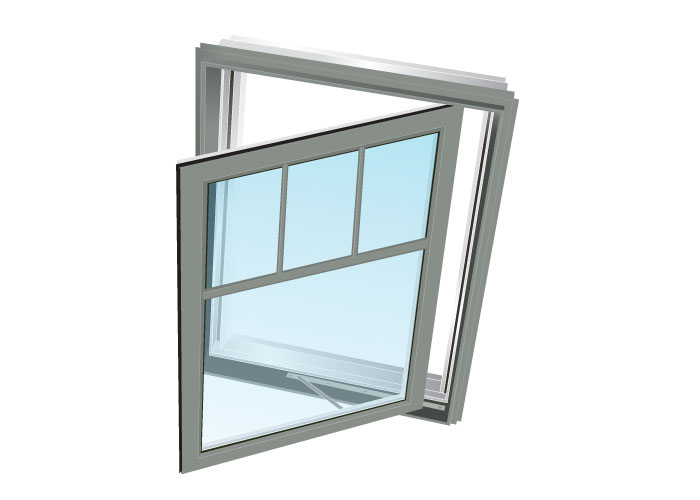 Casement windows are probably the most common type of operational window. Opening out to the right or left, these windows typically close through a multi-locking system that provides a tight weatherproof seal, making them the most energy-efficient operational window type available.
When purchasing casement windows, consider the crank handle options. Standard crank handles are available in white only and tend to get in the way of window treatments such as blinds and curtains. Nested or hidden crank handles on the other hand tuck nicely away and are usually available in white, black, beige and a variety of metal textures such as brushed nickel, stainless steel, brass, or pewter.
When thinking about casement windows, consider what they are opening out into. Will they obstruct a future deck or compromise outside yard traffic? If so, maybe a hung window configuration may be a more appropriate solution.
Single and Double Slider Windows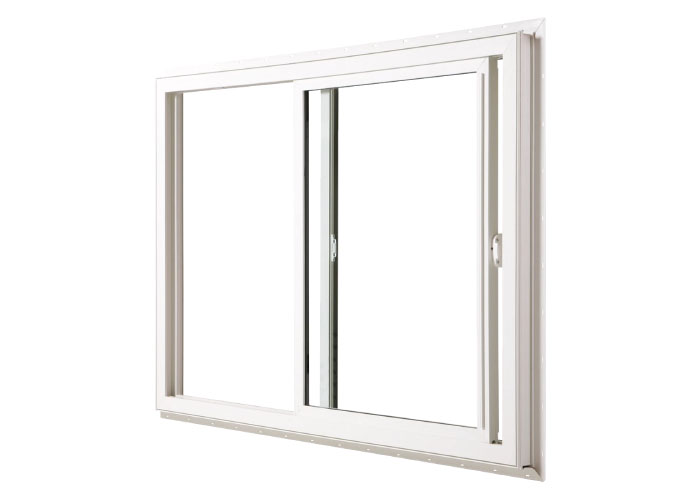 Slider windows operate just like a sliding door and they don't require much vertical space which makes them ideal for areas with limited vertical space. They do not interfere with exterior environments which makes them great for basements, homes with lower ceilings, or to accommodate special architectural conditions. They are also perfect for larger openings or in places that are difficult to reach. Slider windows provide excellent ventilation and are typically available in single slider (one fixed window) or double slider configurations (two operational windows). Sliders can also be available in three lite (window) configurations. With today's technology, these windows are effortless to operate and secure, plus they are easily removable for in-side-the-home cleaning and maintenance.
Single Hung and Double Hung Windows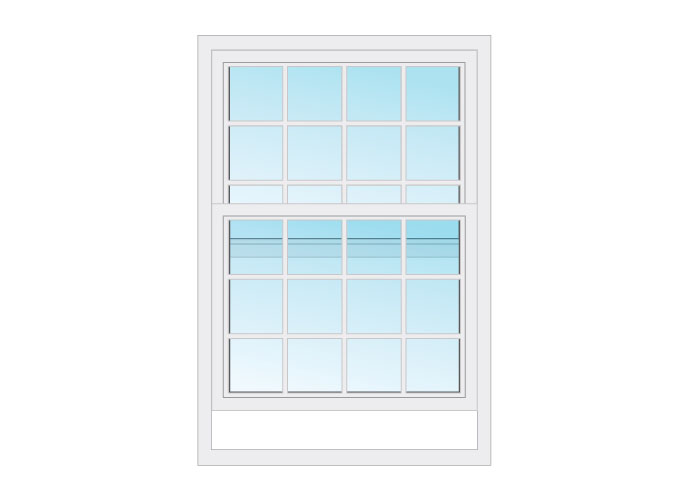 Hung windows operate very much like slider windows, except they open and close vertically and use a different mechanical configuration to do so. Single-hung windows allow the lower window panel (sash) to slide up and down, while the upper sash remains fixed. Double-hung windows allow both the top and the bottom sashes to be raised or lowered, plus each window can also be tilted for easy cleaning.
Bay and Bow Windows
Both Bay and Bow windows project outward, away from your home, an ideal feature for a room where you want to add additional floor space. Both Bay and Bow windows have a deep sill which can be used as a seat, bookshelf, plant stage or storage area.
A bay window is a three-sided protruding extension which allows for the mixing of window types within each side to create a personal and functional space. A bay window is more economical than a bow window and is typically used in newer home construction.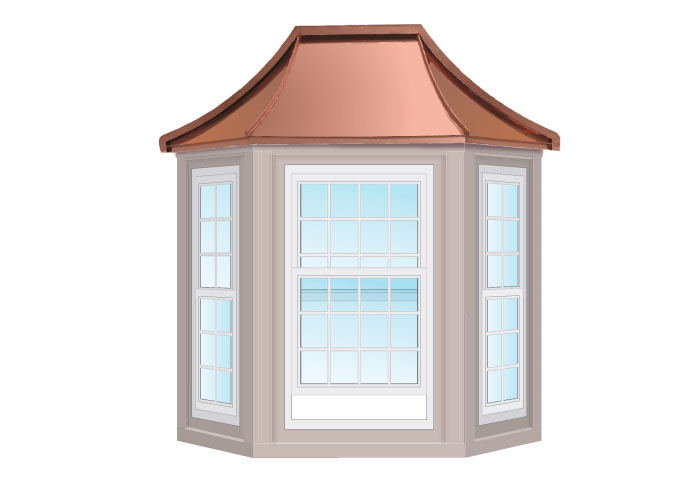 A bow window is similar to a bay window but may be comprised of any combination of four to six individual sides forming a semi-circle. Typically made up of picture and casement windows, but can include awning and hung windows as well. Typically bow windows work better with Victorian or older-style homes.