So, where do you start? This article covers some of the things you should think about when purchasing a new entrance door.
Introduction
Your front door is more than just an entrance, it's also a showpiece – it's one of the first things a guest sees after they glance at your beautiful new door. That's why it's important to choose the right lock, handle or handle set. It's typical for most entrance door manufacturers to offer a selection of standard handle sets that go along with their doors, but most door installers will offer their clients the option to choose a door handle/lock solution from alternative sources.

Every door lock and handle style presents lots of benefits and other considerations, so think carefully about your security needs and your lifestyle when deciding which type and style are right for you. Below you find a summary of points to help get you started with a selection.

Styles and design
Entrance door locks and handsets are typically available in sleek contemporary styles that show off clean lines, smooth polished surfaces and enhanced detailing, and traditional ornate styles that combine classic timeless styling. When choosing door hardware, think about matching it to the style of your door, your windows and the rest of your home - i.e. a contemporary modern style might look out of place on a classic victorian style home. Most door handle manufacturers offer a multitude of metal finishes that include matt/gloss black, matt/gloss brown, chrome, satin chrome, brass, antique brass, nickel, brushed nickel, satin nickel and bronze. Be sure to read product reviews and look at physical samples before you make your selection.
Lifestyle
Whether you are a parent that wants to be notified when your kids come home from school; a renter who needs to change the locks on a regular basis; a busy professional that needs to provide access to cleaners, contractors or a dog walker; or just someone looking for a simple secure key-entry solution to protect your home and property. Choose from a variety of mechanical, electronic or smart locks solutions that function to meet your needs - be sure to weigh the pros and cons of door knobs versus levers and how they fit your lifestyle. With so many options available today, there's bound to be a hardware solution that's perfect for you.

Security
Not all door devices provide the same security, to ensure the highest residential security from a door, look for products that meet ANSI/BHMA Grade AAA or Grade 1 or 2 certifications (strength and cycle performance). These devices will be drill and saw-resistant, pick-proof, bump-proof, and kick-in resistant. Grade 3 certified locks are not recommended for exterior residential doors.
For Smartphone enabled devices, make sure the whole process is protected with 128-bit encryption and check specifications and user reviews for potential vulnerabilities.
Concealed multi-point locking solutions (or 3-point locking) are available from some but not all door manufacturers. These locking mechanisms need to be incorporated into the door during manufacturing. Aftermarket multi-point systems are available but are often clunky and visually unattractive. Multi-point locks can be used on single doors, but they are typically used for double doors or garden doors.
Durability
Durability should always be front and centre when purchasing a new door or new hardware. You don't want to have to replace your hardware again in five years. Quality and durability is usually, but not always reflected in the price. Look for a lifetime warranty on mechanical, finish and electronics.
Typical lock types
Metal door locks were invented sometime around 800AD. Since then they have steadily evolved to suit the needs of homeowners looking to secure their homes. Today many of the old-style door locks are still being used however they have evolved as technologies evolve. Whether you are looking for a simple key-entry door lock or a complex internet enable lock that will open remotely via the internet, there are hundreds of different brands and functionalities to choose from.
Multi-point lock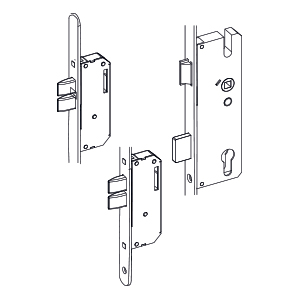 A multi-point lock secures a door at different points — Instead of one deadbolt, it has three which brings additional security. Locks are typically located at the top, middle and bottom (or middle, top and bottom sides) of the door. Multi-point locks are typically driven by mortise lock mechanisms and are more often used on double doors and garden doors.

Deadbolt lock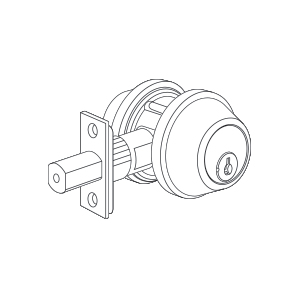 A deadbolt lock is a contemporary lock operated with a key or an access control system. It may be formatted as a single or double cylinder. A single-cylinder deadlock will accept a key on one side of the lock but is operated by a twist knob on the other side. Double cylinder locks will accept a key on both sides and a key replaces the twist knob.
Keypad lock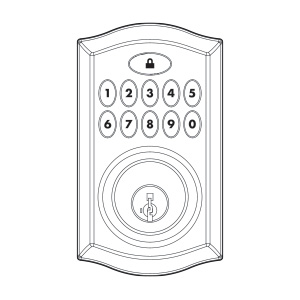 A keypad lock is a battery-powered or mechanical deadbolt or mortise-like lock that uses a numerical keypad rather than a key. See the technology section below for more information.
Smart lock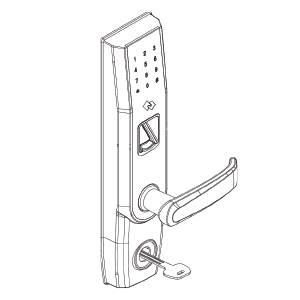 A smart lock is a versatile electronic door lock that allows locking and unlocking a door by smartphone (using wi-fi or Bluetooth) or bio-metrics (fingerprint) as well as a key and a keypad. Smart lock technology is available for deadbolts, Mortise locks, rim locks, various multi-point products and even spring knob locks..

Mortise lock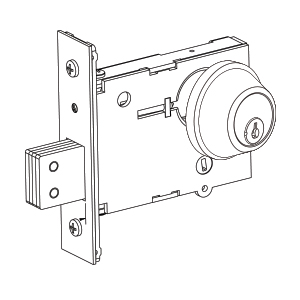 A mortise lock is a traditional style of lock that is encased within a door. Found in older buildings, mortise locks require a sizable pocket cut into the side of the door to house the mechanism and they were originally operated with a skeleton key. Mortise locks are more difficult to install than today's more modern lock types, they are more common in Europe.
Spring knob lock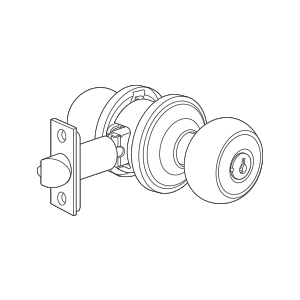 Many entrance doors today come with a bored cylindrical spring door knob which may or may not be lockable and a deadbolt. These locks require 2 holes, one for the knob on the face of the door, and one for the latch on the side of the door. Although these locks are often used as secondary locks that accompany deadbolts, they can be easily broken into with a hammer or wrench.
Rim lock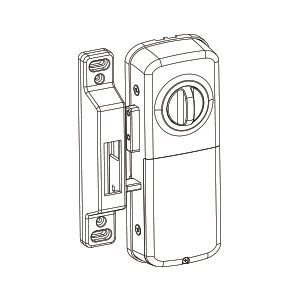 A rim lock is a traditional locking device that is installed on the face of a door. It has evolved from old-style keyed locks into modern styles that incorporate keypads and smart lock technology. This type of lock is not as secure as other types of locks but works well for thin door applications.
Traditional (deadbolts)
Mechanical deadbolts
Traditional deadbolts are unlocked by a key on the outside or a turn piece on the inside. Some come with a re-keying option that will allow for the changing of the key, and others do not and generally come with a lifetime mechanical and finish warranty.
Re-keying smart keys
Once upon a time, if a person needed to change the locks on a door, they would have to either call a locksmith or would have to replace the locks themselves. Today available smart key options make it possible to re-key a door in seconds using an accompanying smart key.
Technology (deadbolts)
Over the last 20 years, advancements in door lock technology have forever changed the way we securely open and close doors. Wi-fi and Bluetooth-enabled deadbolt locks can send notifications of door activity to a smartphone and allow for instant remote access or locking. And Bluetooth smart locks allow for smartphone management when Wi-fi options are not available.

Some locks provide the ability to re-key (conventional metal keys) the system and others even blast out audible message beeps for open and closed door functions as well as low battery warnings.

Some manufacturers offer products that inhibit the transfer of bacteria.
Deadbolts are often packaged and available on their own, or as handle sets which include an exterior handle as well as an inside lever or knob.

Electronic touchscreen smart locks (Wi-fi)
Using the home Wi-fi, these deadbolt locks have a numeric touch keypad (managed through an internet-accessible app) that can provide unique combinations to allow access for friends and family. Provides traditional key functionality, for peace of mind. Batteries required. Batteries required.
Electronic finger touch smart locks (Wi-fi)
Touch-finger touch locks allow the user to scan their fingerprint to lock or unlock a door. Typically in a single cylinder configuration, these deadbolt locks are connected to the home Wi-Fi network and a smartphone app. They can accommodate several users and come with a set of keys to allow entrance during power outages, battery failure or other technical issues. Coloured LED lights will indicate whether the door is being locked (usually orange) or unlocked (usually green) when a finger is placed on the scanning device plate. Batteries required.
Electronic keypad smart locks (Bluetooth)
For locations where Wi-Fi is not available, Bluetooth-enabled deadbolts provide keyless entry and management (add and change access privileges) through a smartphone or other Bluetooth-enabled device within Bluetooth range. Provides traditional key functionality, for peace of mind. Batteries required.
Security system enabled (Z-wave/Zigbee...)
If your home has a security system, some deadbolts will integrate and work with your compatible z-wave smart home network technology that connects and exchanges device control commands and data to each other. Be sure to talk to your security provider before you buy. Batteries required.
Electric keypad (not Wi-fi or Bluetooth enabled)
This solution is not as sophisticated as other electric-driven smart lock-driven deadbolts. They need to be programmed at the lock, typically provide access to fewer users, cannot be opened or locked remotely, and do not provide data to a smartphone. Some of these locks provide traditional key functionality as well as providing low battery and backup battery options. Batteries required.
Typical door lock components
Related terms
Borehole
(Not shown in the diagram). Boreholes are the holes in the door that house your door hardware and allow it to be installed. The cross bore is the main hole drilled into the face of the door where the body of the lock (chassis) is installed. The latch bore, also known as the edge bore, is the hole drilled from the side of the door into the cross bore to allow the latch of the lock to be installed and to accommodate the sliding of the deadbolt. The diameter of the latch bore is generally 1" to accommodate bolts from either mechanical or electronic locksets.
Chassis
This is the internal body of the lock, the unseen working mechanisms inside the door - in the diagram above it would be found inside the security plate.

Trim
Sometimes called a rose, trim is a decorative plate attached to the door under the knob or lever. Depending on the lock you choose, there are a number of available trim styles and finishes to meet your specific preferences and that fit the uniqueness of your home's look and style.
Faceplate
(Not shown in the diagram). A metal plate on the edge of the door, next to the latch or deadbolt, the faceplate protects the lock from wear and tear. It may have rounded corners or be a circular drive-in faceplate. The shape of the faceplate used during installation depends on your door's preparation.
Escutcheon
(Not shown in the diagram). This refers to any plate, including trim and handle set plates, that surrounds a keyhole or lock. It protects the lock cylinder from being drilled out, providing you with additional security, and protects the surrounding area from being scratched by a key.
Backplate
(Not shown in the diagram). Used with a rounded corner faceplate, the backplate is installed with the latch so that it is positioned between the faceplate and the latch bore (the hole where your latch enters the door).
Latch bolt
Sometimes abbreviated as a latch, this is the type of lock that has a bevelled, spring-operated bolt that engages when you close the door. If you've ever accidentally locked yourself out of your house or a hotel room, you know this type well.
Spindle
(Not shown in the diagram). The spindle is the bar that connects knobs or levers through the door and operates the lock mechanism.
Strike plate
Similar to a faceplate, the strike plate is a metal plate that is affixed to the doorjamb and has a hole (or holes) that accommodate the lock bolt. It is not only decorative. The strike plate protects the doorjamb and adds security to the opening.
Tips before you buy or select
Let the style of your door and home exterior be your guide when picking a style of handle set
Consider the styling of your interior door handles as well
Look for an option that provides the level of security you need
Choose a finish that coordinates or complements the other finishes on your home's exterior
Think about your users and how they will gain access to your home as well as potential issues around key entry
You get what you pay for, look for the best warranties to ensure long life, you don't want to have to replace the door handle every 5 years
If you are replacing your front door, you may want to replace the hardware on all other entrance doors in your home, so they all work with the same key or entrance code.
If you think you may need to change locks often, look for re-keying solutions that will allow you to change or adapt a new key