Sometimes when we buy a home, new or old, we have a vision of what we think is the perfect window and door placement and functionality - but as we live in it, and modify it, that vision can change. Maybe we think to ourselves "wouldn't it be great if that window was actually a door?" And then we wonder what would it take to make our new vision come true? Changing a window into a door is very doable, but it can be a complicated endeavour.
Homeowners no longer settle for just changing out their old windows with the exact-sized new replacement windows, instead, they let their imaginations go wild so that they will get the most comfort and convenience out of their replacement. And that's why projects like turning a window into a patio door or changing a regular window into a bay window, are becoming more and more popular.
The primary advantage of converting a window into a door rather than cutting a new door is that often most of the rough carpentry has been already done - the top of the window open frame often will line up with where the top of the door open frame would be. As well, windows are never built into load-bearing walls because the window cannot bear weight - making for the perfect placement of a new door.
However, this is not a simple DIY project - changing a window into a door should only be done by an experienced, licensed contractor.
Why change window into a door?
Maybe you've just added a new deck to your home, and the existing window placement would be a perfect place for a door.
Maybe you want to create a more convenient access point or easier access to parts of the home that are closed off to the exterior. i.e. a side door.
Maybe you want to provide a more open view of your property. i.e. a patio or garden door.
What are your typical choices
Sliding patio door
Garden door
Swinging entrance door
Anatomy of a wall
Here's a basic illustration showing some of the required carpentry for a window and a door.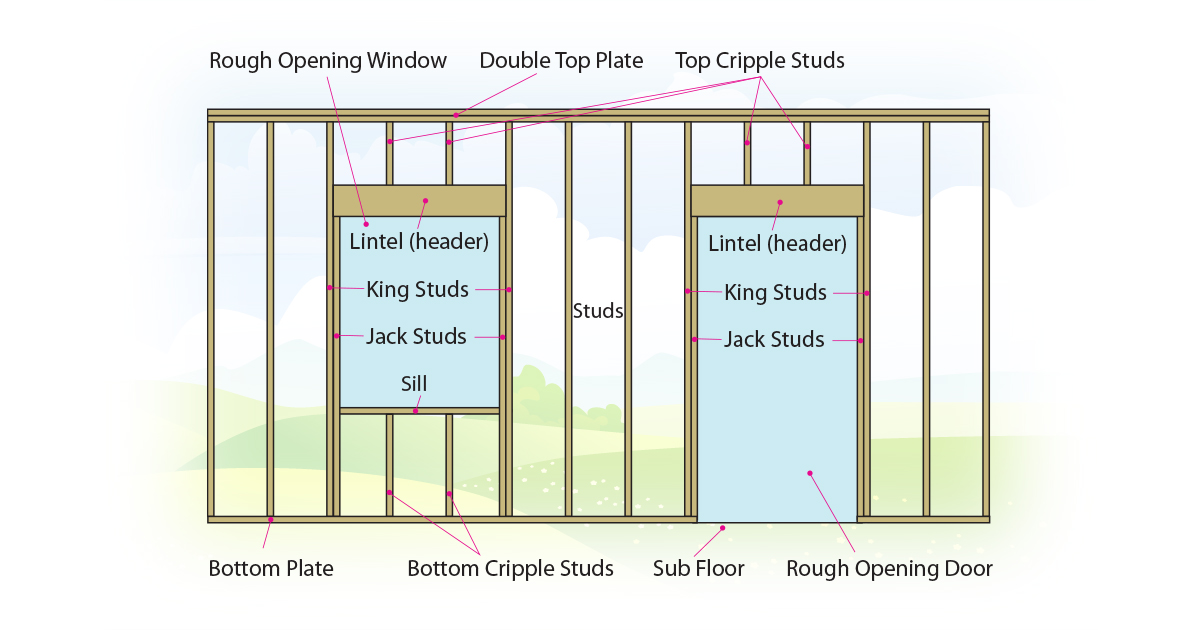 Hurdles and considerations
Permit Requirements
Before you contact a replacement window and door company, you'll need to look into permit requirements at your local municipality.
Check with your local municipality to see whether you will require a permit. It is not typically the responsibility of the window and door company to secure the permits.
Installers are not responsible for required permits, in most cases, you will need to arrange for the necessary permits yourself.
Expanding the opening of a wall to accommodate a patio door (wider than the hole for the existing window) almost always requires a permit.
Because cutting a bigger opening requires the removal of king studs in the wall, reinforcing or replacing the weight carrying header above the window, and potentially compromising electrical work around the window, this work must be done in accordance with city permits.
During the Covid-19 pandemic there has been an unprecedented demand for permits which could affect the time required to fulfil a permit request.
Building Codes
Check area building codes for minimum door width requirements. If the door will be positioned higher than ground level, a landing and steps may be required to ensure the pathway out from your new door is safe.
Cleaning
Converting a window into a door is a messy job. Although good installers will try to ensure the cleanest working site possible, be prepared for above average amounts of dust inside and outside your home when all the cutting is done.
Electrical
Sometimes electrical wiring may run below a window. Professional contractors have the equipment to trace wires through the wall and can establish whether there is wiring. If there is electrical wiring, the breaker for the electrical wiring circuit will need to be switched off and once the door opening has been cut, the electrical wiring will need to be rerouted by a professional electrician. There are specific building codes that have to be adhered to when splitting wires and creating junction boxes.
Plumbing
Generally speaking in the Ottawa area, plumbing is not run through the outside wall because of potential freezing in winter. However if the doorway will be located where an external faucet is located, a plumber may be required, and the water may need to be shut off temporarily.
Structural
Structural integrity of a wall must be retained, in some instances, more than just one hole for the door may be required in order to install proper framing.
Not all windows will have framing high enough for a door, so in these cases, the pre-existing header will have to be removed and replaced to the proper height.
Some materials such as brick, stone, stucco, concrete used on the exterior facade of the home pose structural and refinishing considerations that will drive the cost of the installation up.
Assessability
Before you decide on a location for your new door ensure that its positioning allows for an unobstructed opening. Typically exterior swing and garden doors open into a home, but it is possible to have them open out - ask your specialist for advice if you are not sure what you should do.
Energy Efficiency
Although the insulating properties of doors has become increasingly more efficient over the years, they are still not as energy efficient as a wall. A solid door will be more energy-efficient than a window, but if you are widening the opening to accommodate a patio door or garden doors there could be a slight decrease in overall efficiency.
Finishing
Advanced carpentry requirements for altering a load-bearing wall is pretty much done for you in the door installation. But once your window to door conversion has been completed, there may still be several finishing items required. Some installers will do everything, but many won't, and if you are not a handy fixer, you may need to hire a handyman. Be sure to ask your installer what they will and will not finish - so there will be no surprises.
Drywall repair
Exterior finishing
Interior trim
Step requirements if any
Costs Involved
Converting a window to a door single door will cost an average of $3000.00 - $4500.00
Special options such as stained glass, sidelights and premium hardware will increase the cost
Exterior walls other than wood or vinyl (concrete, brick) will increase the cost
Premium exterior finishing and trim will increase the cost
Hidden load bearing issues may increase the cost
Steps involved in a window-to-door conversion
Contact a window and door installer for a consultation.
Check or have a professional check for electrical.
Plumbing and other obstructions in the area where the door will be installed. Professional Installers have the equipment to trace wires through the wall and can determine whether/where there is wiring behind the wall.
Determine whether a permit will be required.
Approve the quote and pay the required deposit.
The contractor will map out and mark the internal and external area where you want your door to be.
If there is electrical wiring behind the wall, the breaker will need to be turned off.
The external facade will be cut out, insulation will be removed, the studs will be cut down to the floor and the remaining wall will be removed.
If electrical wiring or plumbing has to be diverted it will be done at this point in accordance with area building codes.
Removal of the window framing/casing and wall that remains below the window will take place.
Because most cut-outs are done from outside the home, they present a bit of a challenge in preserving the drywall inside the house. It is typical that the drywall may need to be trimmed back to the first stud on both sides of the opening.
Most window installers are trained and comfortable with doing cut-downs and cut-outs through dry-wall, stucco, and siding.
Very few window companies are equipped to cut concrete, so if you're looking for a walkout from the basement you may have to subcontract the concrete cutting to a company that specializes in it.
Most times concrete cutting is done the day before a window or door installation. This will minimize your home's exposure to the weather.
Depending on the situation, temporary structural support may be required - i.e. if the door opening will be wider than the window opening. - Most of the time when a window is turned into a patio door the header has to be expanded beyond the projected opening of the door.
This may require the replacement of missing siding or drywall, requiring refinishing and painting around your new patio door inside and outside.
The area around the new door will be reframed to the building code so that it can not only hold the weight of the door. But also ensure no moisture or air is let into the structure of the walls.
Once all the structural considerations have been taken care of, the new door will be installed to the window brand manufacturer specifications and instructions.
If the interior and exterior detailing will be required, you may need to hire a separate contractor or finish the detailing yourself. Be sure to ask your contractor to what point they will finish the detailing.
Once the door has been installed as per the contract, the contractor will remove the debris and the old window and clean up the site. In most cases, you will now be able to use the door almost immediately.

What about adding a door where there is no window?
The process of putting a door into a wall is very similar to a window-to-a door conversion with the exception that there may be more complexity in ensuring the stability of load-bearing walls and the door frame/header will have to be created from scratch.
Professional Installation
Window-to-door conversions should be completed by experienced professionals because there are many components to consider. There are also several risks involved that need to be prevented or minimized. Ensure it is done correctly the first time.
If you decide this type of project makes sense for your home, contact an experienced contractor. The project will go smoother if you're working with someone who has the tools and know-how to complete it expertly.
Summary
If you would like to know more about how we convert window into doors, give us a call or send us a request for more information. We'd be happy to answer all of your questions. Contact Us