Bayview Windows is proud to offer an extensive selection of durable and long-lasting garage doors by Garaga. Garaga doors stop the wind, keep the cold out, keep the heat in and add brightness and beauty to your home.
Styles for every taste
Find what you're looking for among our extensive contemporary, traditional or country style doors. Thousands of combinations available!
Designed to save energy!
Get more than just R‑value. Get a garage door with both thermal breaks and weather stripping to prevent the cold from entering your garage. Learn more.
Bayview Certified Installers
A garage door is only as good as its installation. Talk to our experts for sound advice and watch our trained Bayview Windows installers deliver absolute installation perfection.
Features & Options:
Standard:
Five coats of rust pertection
Same steel quality inside and out
Sealed Thermo-pane windows with galvanized metal spacers
Long-lasting polypropylene window frames
20,0000-cycle torsion springs (28 years of normal residential performance)
Hinges attatched to high-grade pine add stability and life
Welded jamb brackes (won't require adjustment)
14-gauge galvanized steel track
High density pressure injected Polyurethane fused to 2 skins of metal
14-gauge reinforced metal plates used on inside panels, hinges, operator brackets and handles
Reinforced horizontal tracks (3 reinforced struts on double door garage doors
Flexible (even at -62 degrees F) U-shapped bottom weather stripping
Single door (9' x 7')
Double door (16' x 7')
Options:
Non-standard door sizes are available
R-16, R-12, R-10, R-6.6 insulation options
Traditional, contemporary, and carriage house styling
14 panel designs available
9 solid colour choices, 2 fau-wood colouring
Optional window configurations
Door glass inserts - to match your unique taste and style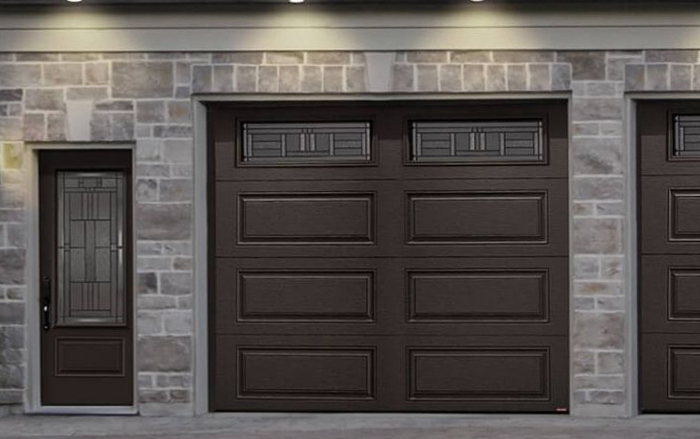 Ask our door specialist how they can match up garage door windows with entrance door lites from Vitre-art, Verra-select and Novatech.
Visit our showroom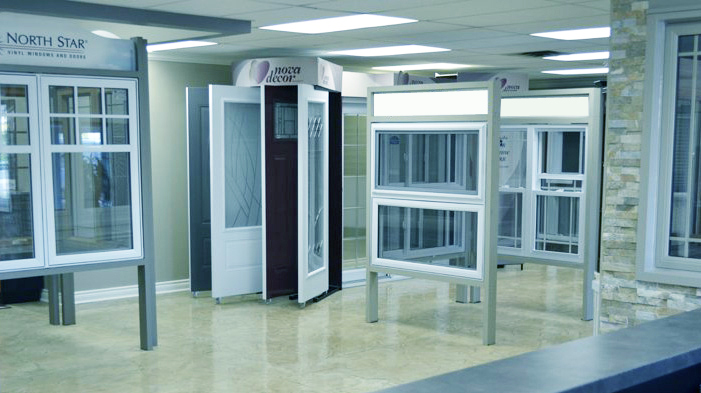 Come visit our showroom in Richmond and talk to the friendly, knowledgeable staff. We'll help you choose a solution that's right for your specific needs, maximizing your aesthetic and budgetary requirements. Call for a free at-your home consult and quote.
For your convenience we offer after-hours showroom appointments during the week and on weekends so you can see samples of our products.