Patio door configuration and standard sizes

Most companies manufacture standard-sized patio doors that fit into standard 2-panel 3-panel and 4-panel widths but these standard sizes do not always have blind and triple glaze options. Note the orientation of the left or right door handles.
Custom-sized patio doors
If you are looking for a patio door set-up that exceeds a standard width and height, you will be looking at a premium-cost custom product and depending on the desired setup (transoms, multiple panels) you could be looking at costs that may be as much as twice that of a standard configuration. Non-standard in-the-glass blind options are typically not available for custom-sized sliding patio doors.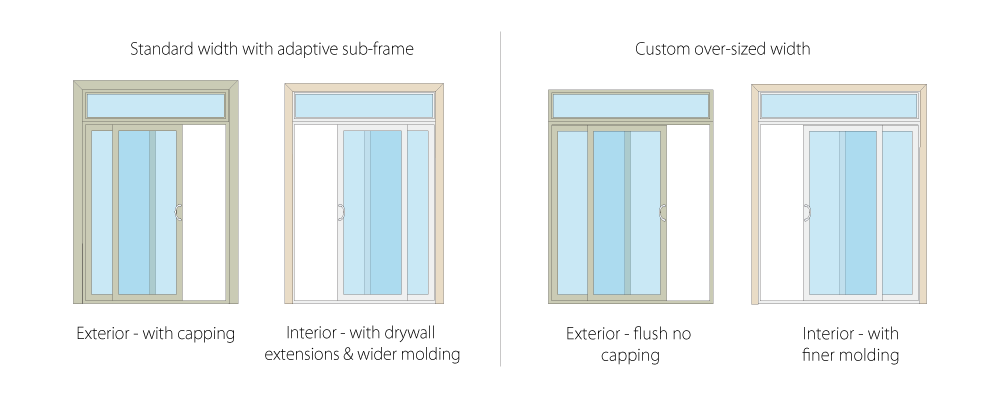 If you are looking at a replacement width that is 4-8 inches wider than a standard patio door and you want to save some money, ask your sales rep about a solution that decreases the width of the door opening - finishing the inside of the home with wider moulding - finishing the outside of the home with wider capping.
Transom vs full height
If you are replacing a patio door that has a transom above it, there are a few transom alternatives that you may want to think about that might provide you with better shading, ventilation and energy-savings - these alternative options include tinting, triple-glazing or replacing the transom with an awning window.

Another alternative you may want to consider is to skip the transom and to go with a higher door. Although this solution may save on the cost of the sliding door, the door will become heavier, the rollers may wear down prematurely and you'll probably need to replace your old shading treatment. Triple glazing and interior blinds are not typically available for door heights over 79.5".
Materials
Sliding patio doors are available in several different types of materials including wood, metal, fibreglass, vinyl and various cladding combinations.
Vinyl sliding patio doors are the most popular, they are cost-effective and easy to maintain. Metal sliding patio doors are the most secured, and wooden sliding patio doors are the most energy-efficient.
When selecting a desirable material there's always a trade-off. Whatever desirable characteristics you might get with wood, metal and fibreglass, these doors are susceptible to the effects of the environment - they will need a higher level of maintenance than vinyl patio doors.
Framing
Not all frames are built the same and although it may not seem like a big deal, the frame is everything, so it's got to be strong and it's got to be well insulated. Look for a multi-chambered design, it will provide good structural integrity and it will reduce thermal exchange. Aluminium reinforcement will ensure the frame is strong and does not sag over time.
Exterior and interior finishes and colours
Vinyl sliding patio door manufacturers use two different processes to add colour to the exterior and interior of their windows, vinyl paint, or vinyl laminate. Both processes produce beautiful results however there are more colour options available with vinyl paint than with vinyl laminates. Vinyl laminates are typically more durable than vinyl paints offering better durability and a longer warranty period.
Wooden sliding patio doors are available in an endless spectrum of colours and stains. These doors will need to be touched up on a regular basis depending on their exposure to the elements.
Clad sliding patio doors are typically available in a limited number of colours and cladding textures. In extreme weather locations cladding may delaminate, be sure check the fine print on the warranty.
Glass
Standard sliding patio doors are typically built with tempered safety glass that is not only stronger than regular glass, will break into pieces rather than shatter into sharp icicles of glass in accidental situations.
For our extremely hot and cold Canadian climate, double-glazed (double-pane) glass is a must and a triple-glazed option will add another layer of sound and weather insulation. Although typically filled between-the-glass with Argon gas, Krypton gas and Low-E coatings will further add to the energy-efficiency of the door.
And if glass security is of the utmost importance, laminated security glass is another option to consider. It is extremely hard to break and it does not shatter or break into sharp pieces.
Blinds & Tints
Just about everyone will agree that sliding patio doors pose frustrating issues when it comes to keeping the sunlight and prying eye out of your house. Exterior in-the-home window treatments are often awkward and imposing and just a nuisance.
Many window manufacturers offer between-the-glass blinds that operate magnetically to tilt, raise or lower the blind. Most mechanisms are similar in principle, but some are integrated into the door better and some operate better than others. Between the glass blind options are generally only available in standard-sized patio doors, but don't fret, ask your door specialist about adjusting the door opening to accommodate a between-the-glass patio door blind request. See "Transom vs full-height" above.
Many window manufacturers also offer a selection of tints, coating and even privacy glass that may meet your privacy requirements. Be sure to ask your sales rep what is available for the patio sliding door you are considering.
Grills
Between the glass, grills are a great option if you are trying to match or create a certain style, but they will decrease the energy-efficiency of the door slightly. And for an even more stylish look and uncompromising energy solution, some companies offer exterior divided lites (wider grills) that are applied to the exterior of the door to give a more traditional profile without affecting the efficiency of the door. Interior and exterior grills come in many colours and materials and will boost the cost of the door.
Operation
There are lots of different ways that patio door manufactures mechanize their sliding doors to perform smoothly and quietly. Look for a patio door that glides easily with the push of a finger and they should continue under normal use to glide easily throughout the term of the warranty. Speaking generally, the longer the warranty, the longer you will be happy with your patio doors and in most cases, you get what you paid for. Be sure to read the small print of the warranty to understand just what's covered, and for how long.
Locking Hardware & Security
Patio door locks are important, not any more or less important than the one on your front door, but I find that they are often overlooked, and for a little bit more money, you can add a little more security and peace of mind.
I recently had three salespeople visit my home to give me a quote for a sliding patio door, and not one of them informed me of potential security upgrades (I suspect because it's a bit of a bother for next to no commission). My advice to you is that you ask your sales rep what locking options are available - it will make a difference.
Single-point locks (standard)
Single-point locks are standard locks for most manufactures, make sure they lock up rather than down (it's an anti-lift deterrent)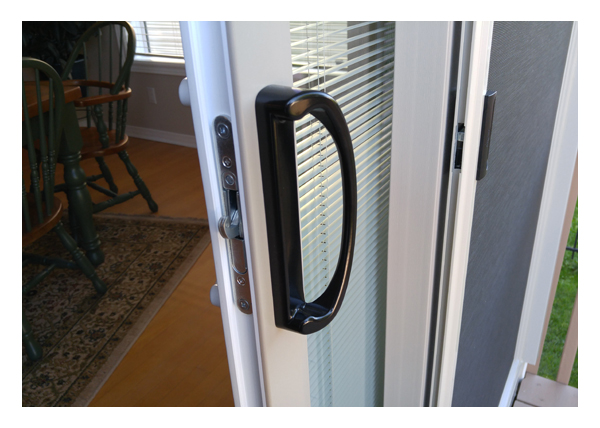 Multi-point locks (option)
Multi-point locks typically have two latches, one that locks up and another that locks down for a nice tight grip so that the door cannot be wiggled up or down.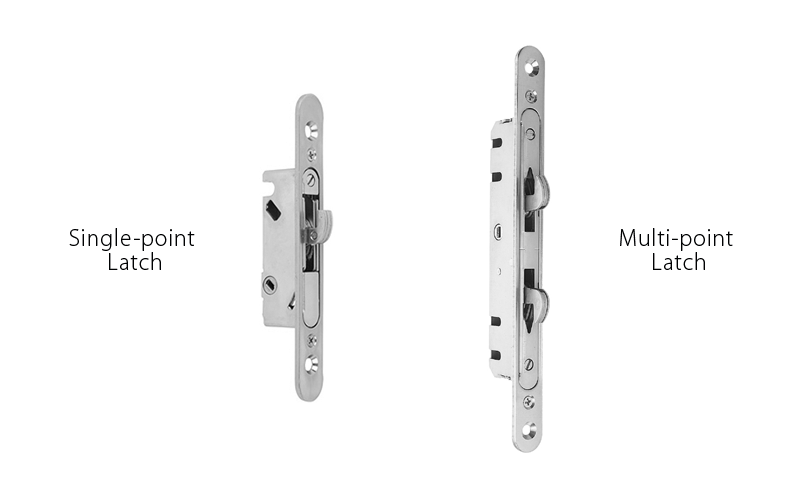 Deadbolt lock (option)
Deadbolt locks are usually positioned at the opposite side of the lock side of the sliding door - in the centre of the patio door, at the bottom or at the top and some manufacturers also offer keyed locking the deadbolt. Some deadbolts will allow you to lock your door in a slightly open position for ventilation and many also double as an anti-lift deterrent.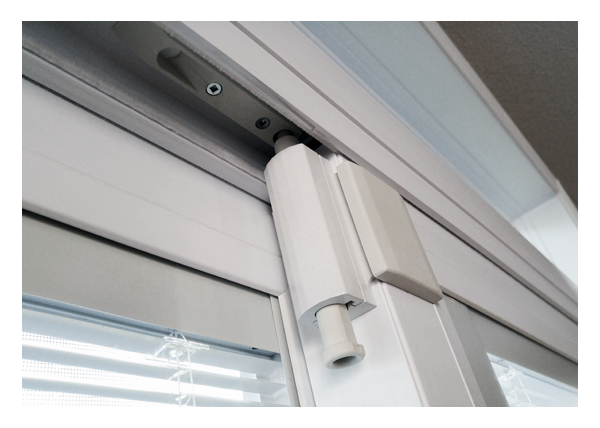 Keylocks (option)
Keylocks can be installed both inside and outside the patio door - check with the manufacturer if you want both.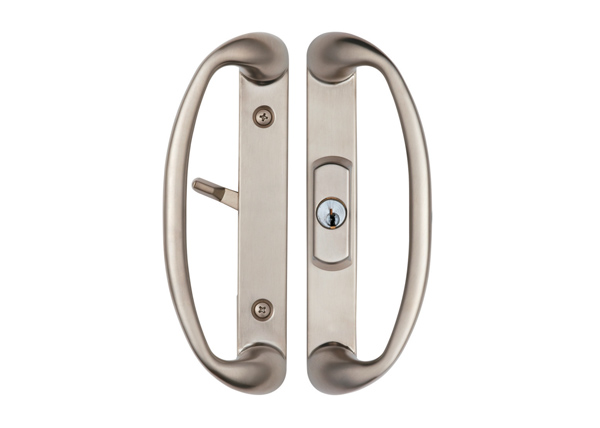 Anti-lift blocks
By their nature, lower-end sliding patio doors are sometimes susceptible to easy entry by lifting up the operational door and pulling it forward. Higher-end patio doors usually have an anti-lift component that prevents this and some manufacturers offer anti-lift blocks which can be pushed into the upper channel to prevent lifting.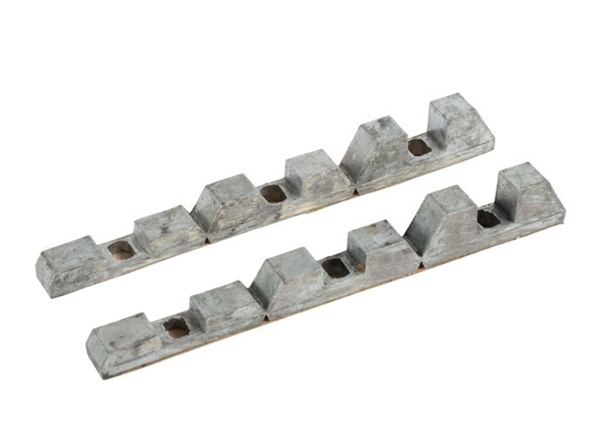 Energy Star Rating
The Energy Star program has become an international standard to help consumers save energy and money through the purchase of energy-efficient products. When looking at energy star ratings, remember, the larger the ER rating number, the more energy-efficient the sliding patio door.
To compare sliding patio door products visit the Natural Resources Canada - Energy Efficiency Ratings Search. Enter the product brand and select the glass and gas that matches your desired criteria.
Want to know more about energy efficiency in patio doors? Check out our dedicated Energy efficiency blog category where you'll find common terms and helpful information.
Warranty
Warranty's on patio sliding doors are very different than vinyl windows because of potential high-traffic that pushes through them.
Typically the frames are covered for 20 years and some companies go as far as a lifetime warranty.
Interior and exterior colours usually have warranties of 15 to 20 years.
Hardware warranties rarely go over 5 years.
Blinds are typically covered for up to ten years against seal failure and mechanical failure
Some companies offer lifetime parts and labour warranty while others may charge extra for parts and charge by the hour for labour
When shopping around for sliding patio doors, the warranty really does matter. Be sure to compare and read the fine print.