Steel, fiberglass and wood entrance doors & door lites
Whether you're renovating your home, or building a new one, discover the high-quality, competitively priced and charming entrance way you've always dreamed of.
Using only premium quality installation materials, our full-time bonded installer teams provide prompt, clean, top-quality, detail-oriented installations and finishing and we guarantee our work with a life-time limited on labour and materials.

Dimensions steel, fiberglass & wooden doors
Our Dimensions Door entrance door products offer a broad selection of colours, styles and door lite options to meet your explicit design and security needs - the quality is superb. Whatever you are looking for, we'll help you find an exceptional custom entrance solution.
Door lites - it's a matter of taste and style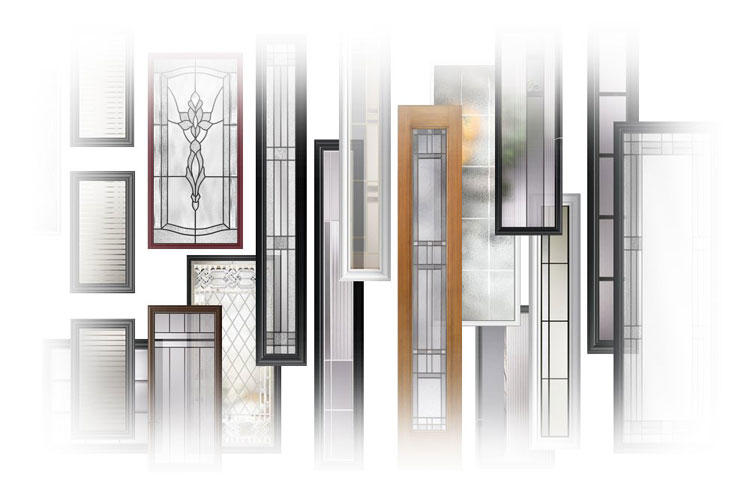 Looking for something unique? Our entrance doors can be paired with hundreds of door lite options from Novatech, Vitre-Art and Verre-Select. Choose from a huge selection of standard or customized designs in stained glass, frosted glass, obscured glass, print on glass and more...
Visit our door glass-lite partner suppliers and find a door-glass or side-lite that matches exactly what you want, or better still, come visit us and our friendly knowledgeable personnel will help you find a perfect fit even faster.
Standard door features:
prepainted white slabs on all standard
sized wood-frame doors
standard 4"X4" hinges will fit the hinge preparation
wood brickmould
brass hinges
1 1/4" wood frame for maximum rigidity
24-gauge hot-dipped, galvanized steel with polyurethane foam insulation for the ultimate in strength and durability
Door and Door glass-lite warranties:
Dimension Doors, door & door-glass warranty
Our custom door solutions include components from a select number of manufacturers with corresponding warranty's. Door lites and any other components, including hardware, are warranted by these manufacturers and limited to the terms and conditions stipulated by them.
5-year limited warranty against de-lamination of the slabs
1-year limited warranty on paint finish, against peeling or flaking
10-year limited warranty on PVC door lite components
10-year limited warranty against seal failure on all stained glass
For more information - download the
Dimension Doors warranty brochure [PDF]


Novatech, door-glass and door-lite warranty
10-year limited warranty against frames and plastic components
10-year limited warranty against double sealed glass units
For more information - download the
Novatech door-glass warranty brochure [PDF]


Verre Select, door-glass and door-lite warranty
10-year warranty against defects of manufacturing and condensation
For more information - download the
Verre Select door-glass warranty brochure [PDF]


Vitre Art, door-glass and door-lite warranty
Life-time limited warranty on discolouration
Life-time limited warranty on oxidization
Life-time limited warranty on vibration
Life-time limited warranty on thermal breakage
10-year warranty on condensation and seal failure
For more information - visit the Vitre Art web site